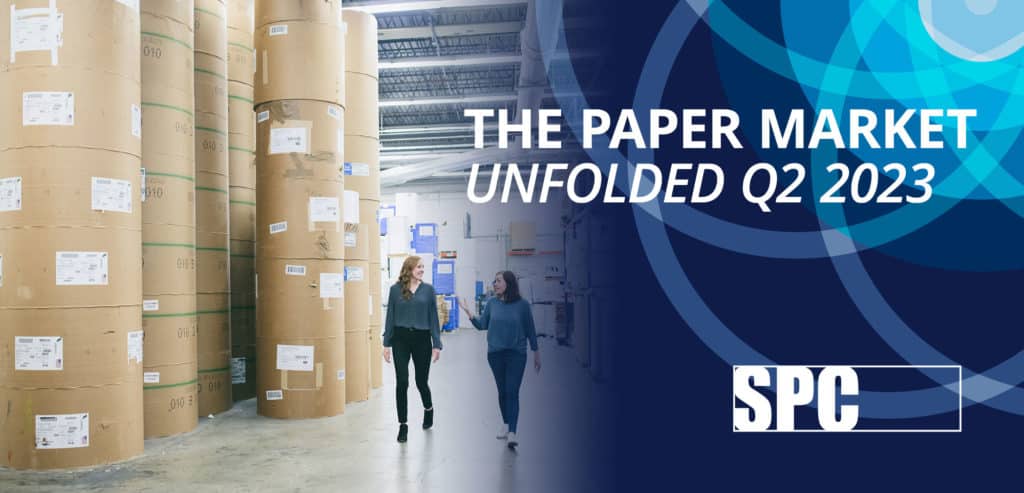 Currently, the paper market seems to be in a relative comfort zone, though market conditions will become tighter in the back half of 2023.
The market dynamics are dramatically different than they were at this time last year. Weakening demand coupled with lower operating rates are creating uncertainty in Q2 2023. Operating rates are projected to be around 77% this quarter, very different from the 94% levels in 2022. Producers are trying to maintain balance by slowing machines to the pace of orders.
In the Paper Market Unfolded Q1 2023, we discussed inventory buildups at printers at the end of 2022. Last year, printers were purchasing all their allocated paper tonnages, resulting in upwards of 13-15 months of supply. Since Q1, printers have been heavy on product and trying to work down volumes. Inventory levels at the mills are at record lows while inventory can still be found at the printer and merchant levels.
In May, demand continued to remain low, leading to a projected 20% overall decline in 2023. The market will start to recover and, next year, it is projected to experience a more significant rebound toward normal conditions. SPC recently hosted a Paper Market Roundtable with leaders from Midland Paper and Sappi. During this session, attendees were given insights into the current state of the paper market industry and what can be expected for the remainder of the year. A recurring message throughout the roundtable was the economy's effect on demand and the impact on inventory levels. Participants were cautioned to expect a tightening in the market to appear in late Q3 and Q4. There will be a typical ramp-up of demand in late Q3 and Q4 timeframe. Current supply levels, combined with anticipated increased demand and lower operating rates, may result in mills being unable to produce enough of certain stocks to meet the demand.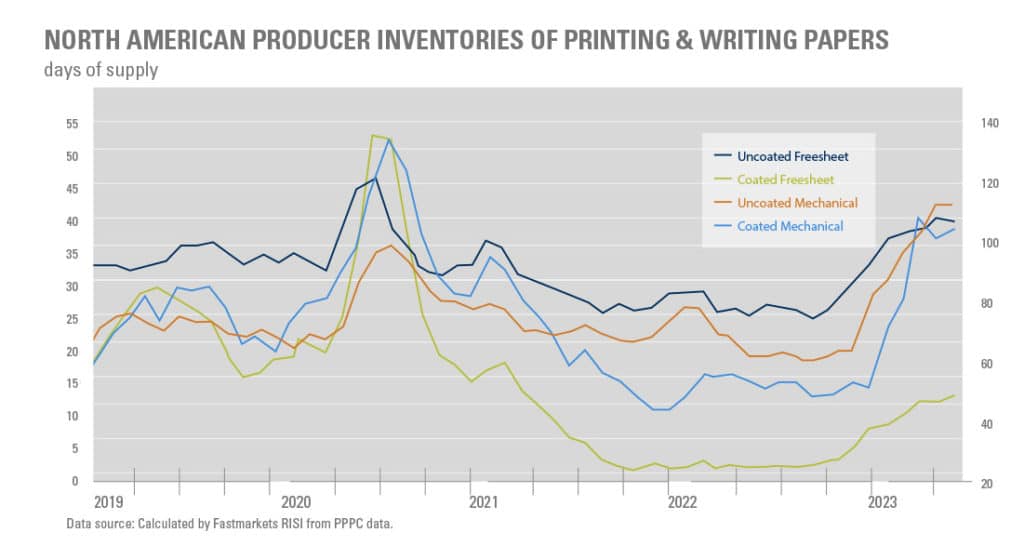 Mill Updates
The good news is there have been no other significant announcements regarding changes in capacity since the last quarter. Representatives from Sappi confirmed no big projects in the foreseeable future that would impact supply.
As expected, Pactiv Evergreen's Canton mill officially closed its doors in May, and ND Paper's Biron mill has left coated mechanical production to convert to recycled containerboard, producing its final roll in April.
Uncoated Freesheet
Prices for uncoated freesheet decreased in June, a side effect of weak operating rates. Uncoated mills are producing less product as demand remained below 500,000 tons in May for the fourth month in a row. We saw a 20% decline in demand in April, estimated to be 18% in May.
There are multiple factors contributing to these market conditions. Buyers have dramatically shifted from aggressively restocking inventory to experiencing a significant decrease in orders. As soon as printer inventory levels decrease and prices become more reasonable, we can expect a rise in buyer interest and improved market conditions. The demand forecast has operating rates at 91% in the first half of 2024.
Coated Papers
Right now, there is ample domestic coated paper availability.
Coated paper demand is projected to be more than 30% below its long-term trend. The weak conditions are a result of buyers utilizing the paper they aggressively bought in 2022 when it finally became available. Coated freesheet and coated mechanical demand are expected to rebound by 11% and 6% respectively in 2024.
Coated paper markets continue to feel pressure from imports. Offshore imports still accounted for 40% of North American demand in the first four months of 2023, compared to 25-30% in previous years. Import pressure is one reason why coated freesheet operating rates have averaged less than 70% in 2023. When it comes to pricing, domestic mills face stiff competition from offshore mills. While domestic mills have kept their prices stable, offshore mills have been offering discounts to attract more orders.
Imports
The good news for domestic mills is that offshore imports are falling in the first half of the year. Buyers have less need to look for offshore supplies, especially with the shorter lead times that domestic mills offer. This has kept operating rates from further decreasing.
Closing Thoughts
We expect coated paper prices to remain stable for the back half of 2023. The uncoated market has seen prices stay flat or even shift downwards, we expect this to continue.
SPC's advice? Communication is key! We will be approaching tight market conditions very soon. Currently, 3-5 weeks is a good rule of thumb for lead time for most papers. However, it's expected to double for Q3 and Q4. Give yourself more time and get orders in early. Keep communications flowing. Our industry is no stranger to unpredictable conditions, but now we have learned and have processes in place to handle the potentially tight market approaching.
Contact Ryan LeFebvre at ryanl@specialtyprintcomm.com for assistance in making your DM programs a success.