Rough Waters Remain but Hope is on the Horizon
We all wish we had a crystal ball to see the future. The paper market continues to be difficult to predict due to ongoing fundamental stresses at the mills and along the supply chain. We do, however, see initial signs of hope the paper market could improve in 2023 and have balance largely restored within the next two years.
Our recommendations for marketers for Q3-Q4 remain the same: Plan your campaigns well ahead and be prepared for unexpected delays.
In our Q1 2022 Paper Market Unfolded, we focused on primary market dynamics affecting paper stability and pricing, including:
Paper mills are setting prices at the time of shipment, NOT when the order is placed. This means any existing orders could still face price increases.
BillerudKorsnäs completed its merger with Verso Corporation, now called Billerud.
Domestic paper production remains stretched thin and not able to meet demand, extending the practice of paper allocation.
We are predicting additional price increases for the back half of the year due to still rising input costs – pulp, labor, energy, chemicals, and freight. With the country experiencing 9% inflation in June, it's no surprise these costs remain unstable. In fact, pulp prices are up 20% in just the past five months.
Many mills are wasting no time passing these costs through to buyers:
ND Paper has announced a 4-6% July price increase for coated mechanical papers.
Twin Rivers and Neenah have announced increases for uncoated grades.
NORPAC, a west coast mill, announced they will raise the price of their Norbrite uncoated groundwood papers by $5.00 cwt effective with shipments on or after August 1st. Paper from this mill is typically used for books and "orderform" type products. NORPAC is also currently under moratorium and unable to consider accepting new orders until at least September.
Domtar just announced a 4-7% September increase for all office, printing, publishing, converting, specialty and technical paper products in all pack sizes. This comes right on the heels of their previously announced August price increase.
Paper Trader puts these price jumps into perspective:
"Prices for coated paper and uncoated freesheet skyrocketed in May, with uncoated freesheet prices jumping $90/ton and coated paper prices by at least $80/ton. Prices for 60-lb coated rolls and economy sheets soared $110/ton or more. In all cases, these May price increases were the largest single-month price increases ever, a surge made even more impressive by the fact that prices have been ascending rapidly for the past year."
Production, Inventory, and Imports Breakdown
(CFS = coated paper, UFS = uncoated paper)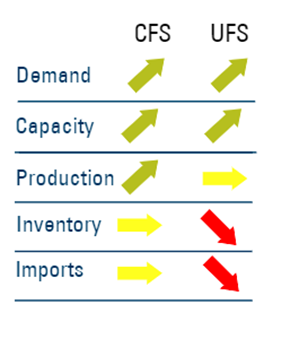 The paper supply chain has shown a slight improvement but is nowhere near normal.  North American production has seen a small uptick over the past quarter. This can be attributed to increased mill output combined with fewer product changes on the mill lines. While coated paper is benefiting from optimization efforts, this is not the case with uncoated paper. Mill closures continue to threaten further production expansion. Inventory for both coated and uncoated paper remains generally stagnant at historic lows. Any new supply quickly heads out the door to meet demand.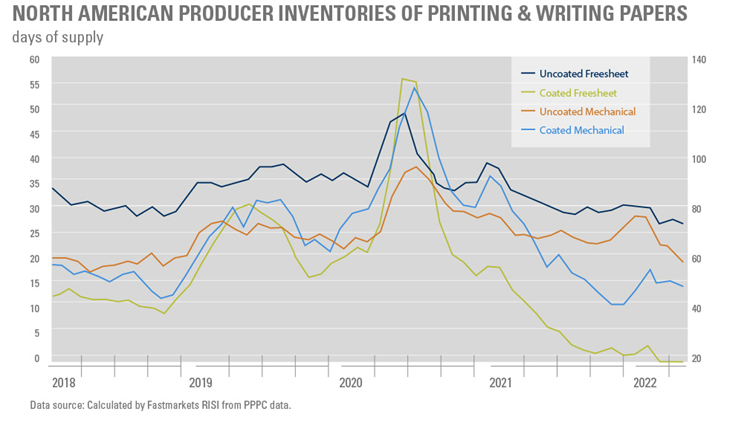 30% of North American Coated Paper is Now Imported (an all-time high)
Ocean shipping container costs are finally declining, suggesting we may see more coated paper come from the Asian markets. Much of the paper originates in South Korea. Historically, most of these imports would stay on the west coast. If we see an increase in these imports, an eventual trickle-down effect may help the remaining parts of the country. Fingers crossed longshoremen on the West Coast can work through their issues to avert a looming strike.
In Europe, the UPM mill in Finland ended its strike on April 2nd and the mill began producing paper again. The Q3 and Q4 UPM shipments to the US are expected to increase as UPM fulfills orders that were accepted prior to the strike in addition to new second half orders. With European print demand softening, and the strengthening dollar, we may see a historically higher volume coming to the US. It is important to note, however, that all paper coming from the UPM mill to the US has been text weight. Most of the UPM paper arriving is for catalogs and publications as well.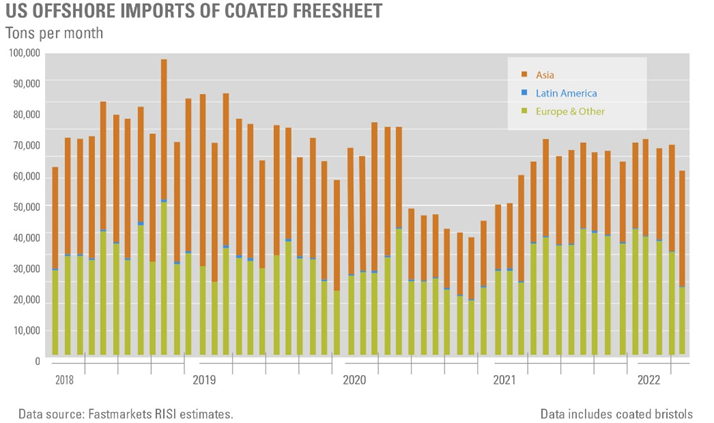 Coated Paper Update
By 2023, availability of coated paper should normalize enough to limit outright shortages. Year-to-date demand remains robust compared to the prior year. So, while capacity remains low, coated freesheet production is performing better than the end-of-year 2021.
There have been no signs yet that prices have reached a level that will put demand and supply back into balance, suggesting at least one more price increase before the end of the year is to be expected.
Uncoated Paper Update
North American mills are operating at 99% of capacity, which is a number for the record books. Operating rates were in the lows 80s just three years ago. Demand is expected to rise 1% in 2022 before dropping 5% in 2023, pulling operating rates back down to a more typical range of 90-92%. The capacity for uncoated is expected to stay flat; closure and restarts of mills will offset each other so we expect no big changes.
If demand continues to outpace supply, we expect this upward price cycle will continue. As a result, more attention will be drawn to offshore imports. Imports are the wild card in Q3/Q4. If the percentage of imports stays relatively flat, the uncoated freesheet market could remain tight well into 2023.
It's important to note the demand for envelope paper has remained steady.
Additional Mill Updates
Sappi continues to have a dominant share of the North American coated paper market, with the newly formed Billerud Mill accounting for 90% of overall production.
Phoenix Paper has recently increased its capacity, but the benefits of this may be illusory as it seems likely they will be converting to packaging grades, limiting the uncoated freesheet market even more.
The Biron Mill in Wisconsin Rapids will be closing at the end of the quarter. This mill has two machines that produce 390,000 tons of coated groundwood paper. This closure will remove about 20% of the remaining North American coated mechanical capacity often used for publications. This could force the hands of buyers to upgrade to freesheet grades due to the lack of supply, creating the possibility of a further tightening of the coated text weight paper market heading into 2023.
BillerudKorsnäs and Verso completed their merger near the end of Q1 this year. Billerud reported a strong start to 2022, with a 13% increase in Verso sales and "double-digit topline growth across all categories." This increase was much stronger than Verso's 4% sales growth in Q4 2021. They expect to keep the momentum going into Q3.
Billerud's CEO confirmed plans to convert some of Verso's manufacturing assets to packaging-grade paper. In the last issue of The Paper Market Unfolded, we discussed Billerud's plan to convert two of the former Verso's coated paper machines located in Escanaba, Michigan to paperboard production. The first machine conversion would start in 2023 and be completed by 2025, and the second machine would come online by 2029. The plan also includes expanding Verso's pulp production and maintenance-related upgrades early in the conversion project.
How long will this conversion take?
The downtime of each machine is estimated to be 6 months during the rebuild. Verso's mills in Escanaba and Quinnesec, Michigan will pause production for scheduled maintenance sometime during the third quarter of this year. Escanaba will be on hold for 8 days, while Quinnesec is expected to take 14 days plus 37 days for work on the recovery boiler.
Transportation
On a positive note, driver availability has been improving over the last few months. This is a key point in facilitating on-time paper delivery.
As of June, the load-to-driver ratio averaged 4:1, down from nearly 10:1 in January.
The average pump price is now $5.79 for diesel fuel.
Ocean freight volume for global shipping containers has decreased to Q2 2021 levels. This decrease will help international paper arrive on the shores of the US at a more reasonable rate.
Closing Thoughts
With no significant changes in print demand, domestic paper production, or international paper coming to the US, the paper market will remain challenging for the foreseeable future.
There are signs pointing to a slight improvement in 2023 and potentially a balanced market in 2024.
SPC will continue to monitor market signals to help you plan your future print projects. We are here for you in this challenging market. Careful planning and willingness to be flexible remain critical for the balance of 2022.