How Online Portals Can Streamline Workflows
SPC Marketing Storefront Advantages
Empowers geographically distributed locations while maintaining full corporate oversight
Consolidates production and fulfillment of all assets through a single platform
Maintains brand integrity across your entire marketing portfolio
Ensures control over compliance and regulatory requirements
Simplifies accessibility
Maximize Productivity
A centralized marketing storefront is a great tool that can significantly enhance marketing efforts throughout your company. It serves as a gateway providing easy, fast access to your marketing portfolio products to distribution locations or clients. The hub makes it easy to search and order localized marketing campaigns, signage, branded merchandise, and other assets. Companies benefit from accessibility, efficiency, consistency, ease of distribution, collaboration, and real-time processing and analytics.
Order Flexibility and Consistency
SPCFuel can help you effortlessly connect with an entire supply chain, no matter how many producers are involved. SPC's highly-versatile marketing portal is a virtual storefront geared to support infinite locations. No more worrying about the local interpretation of brand standards, dealing with complex business rules, or the backend supply chain. With the flexibility of a marketing storefront, there are no limits to what marketing items you can offer. A platform's capabilities span customization and personalization, resulting in easy distribution, and offer time and cost savings as well as global accessibility. Furthermore, a portal is scalable as an organization grows, accommodating new materials, updates, and users.
Powerful Web-to-Print Solutions
Need to execute a direct mail campaign? Simply choose a pre-loaded campaign option, build and/or upload a list, customize the creative template in real time and schedule the mailing. The platform even calculates postage and handles payment processing. Remove the uncertainty of inventory management and cut costs by printing only the materials needed. Simplify the order process while increasing productivity – all from a single cloud-based web-to-print solution.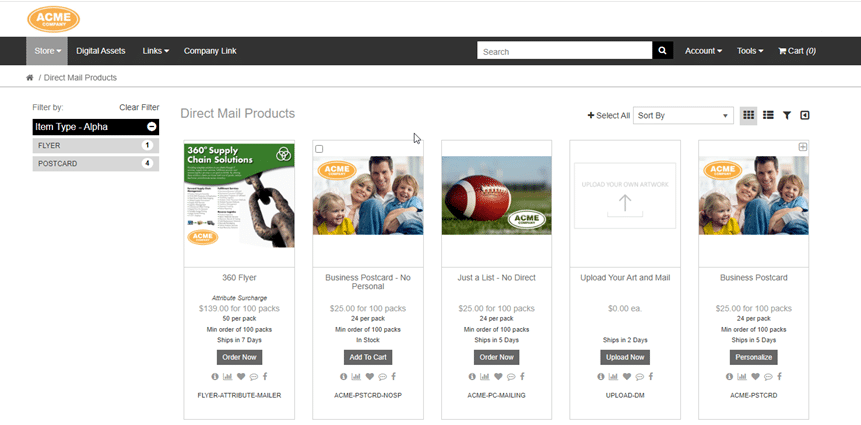 Complex Marketing Programs
Technical Support
At SPCFuel, we offer comprehensive support for your portal strategy, from planning to execution and ongoing monthly maintenance. Offer a user-friendly interface to staff or clients from any location or device.
Implementing portals into your marketing mix will boost productivity and create a smooth workflow process while maintaining a strong brand presence.
To enhance your marketing strategy, speak to your SPC sales representative and explore the possibility of incorporating portals.