Randy Weiler, SPC's Senior Director of Postal Affairs, Logistics and Strategy, is here to help you navigate the labyrinth of the USPS. Every month, Randy fields your burning questions about mail and postal affairs in a Q&A format. This time, we're following a different format to present to you time sensitive updates on USPS process delays across the country.
Impacted Mail Classes: Marketing Mail Called Out By USPS But Expect All Mail Classes To Be Impacted
SPC and our logistics partners are continuing to experience significant unloading delays at many USPS facilities throughout the country. The USPS is attributing this to a record number of packages being processed as well as Covid-19 related staffing shortages. Currently six facilities are under a temporary embargo not accepting deliveries, while other facilities are requiring drivers to wait for sometimes longer than 24 hours to be unloaded.
For locations under embargo, SPC is working with the USPS to obtain updated information as to when these facilities will begin accepting shipments. For facilities with excessive wait times, one-stop direct loads are being built as much as possible to mitigate the impact of potential delays that would result from multi-stop loads. At this time a commitment to regular transit and delivery timelines cannot be made for the below listed facilities.
By no means are the delays limited to the below listed facilities and marketing mail. The USPS has stated that there are backlogs across the country. It is reasonable to expect mail delivery delays in all areas across all mail classes. USPS Informed Delivery has gone as far as notifying their customers of the delivery service impacts. This notice goes along with the message of limited employee availability and unprecedented volume increases due to Covid-19 impacts.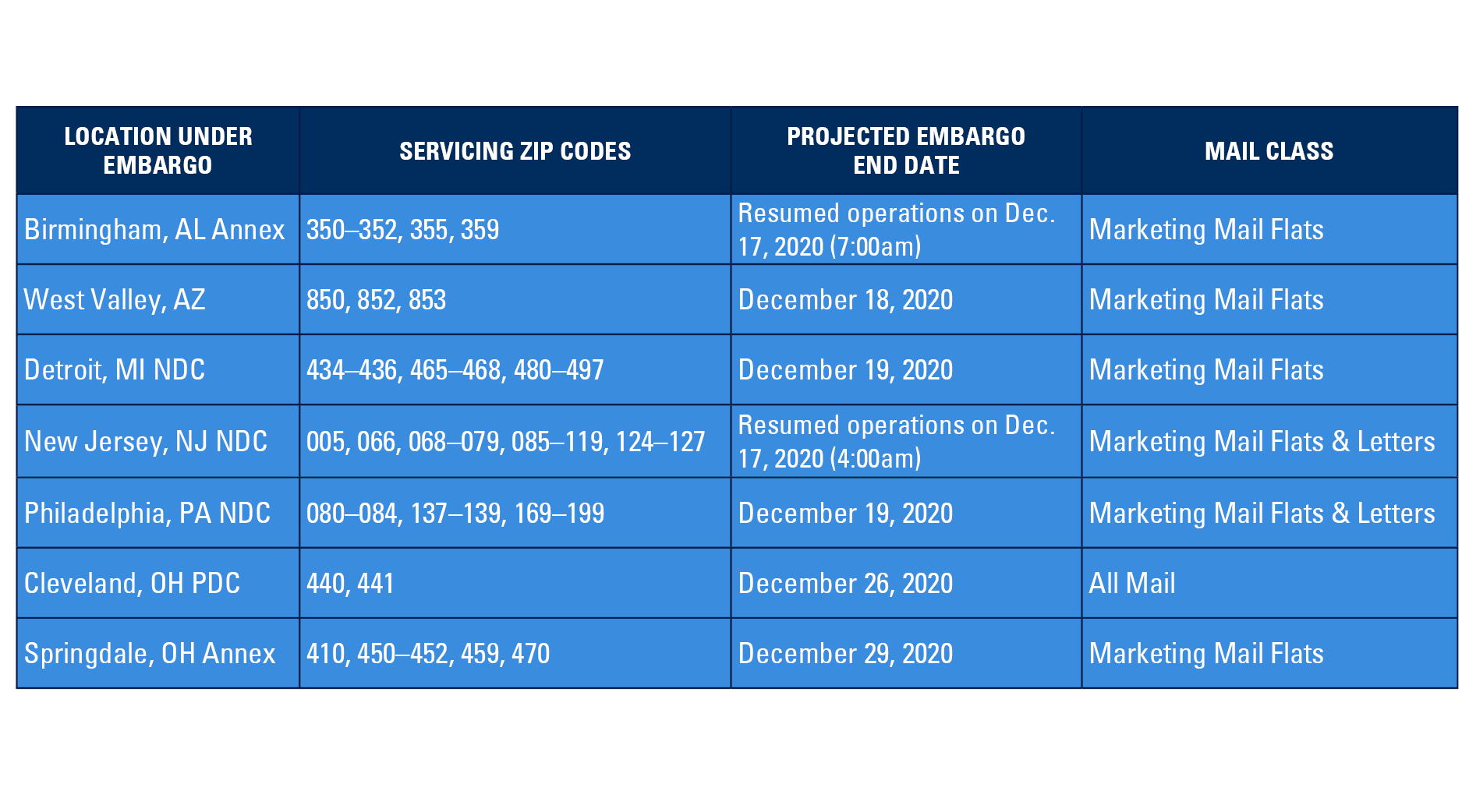 Locations with Excessive Wait Time:
Baltimore, MD (212 and 219)
Harrisburg, PA (170-172, 178)
Linthicum Heights, MD (210, 211, 214)
Lehigh Valley, PA (180, 181, 183)
Rochester, NY (144-146)
Southern MD (206, 207)
Louisville, KY (400-402, 471)
Nashville, TN (370-372)
Atlanta, GA SCF (302, 303, 311, 399)
St Louis, MO NDC (420, 423, 424, 475-479, 614-620, 622-631, 633-639)
Northern VA (220-223)
Detroit, MI SCF (481, 482)
Des Moines, IA NDC (500-516, 520-528, 570-577, 612, 680, 681, 683-689)
Greensboro, NC NDC (240-243, 245-249, 270-297, 376)
Indianapolis, IN Annex (460-462)
Kansas City, MO NDC (640, 641, 644-658, 660-662, 664-679, 739)
Knoxville, TN (377-379)
Memphis, TN (375, 380, 381, 386, 723)
Nashua, NH (030-034)
As further testament, the USPS process delays at this time, today, USPS Informed Delivery participants received this below message: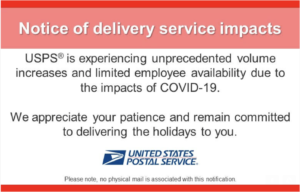 SPC will continue to monitor this evolving issue and provide updates as information becomes available.
As always, you can email Randy at askrandy@specialtyprintcomm.com or post a question via Facebook or Twitter using the hashtag #AskRandyUSPS. We post the questions and his answers each month both here on the SPC blog and on social media. To see a full list of questions that Randy has answered, check the Ask Randy Index.
**Updates as of 12/22/2020
Embargoes are lifted, delays still abundant
USPS Employee Absenteeism
According to a recent update provided to the National Association of Letter Carriers, more than 14,000 USPS employees are currently quarantining due to potential COVID-19 exposure. More than 7,000 USPS employees are currently positive for the novel coronavirus or presumed to be, meaning greater than one out of every 100 USPS workers currently has COVID-19. Since the beginning of the pandemic close to 23,000 Postal Service employees have tested positive for Covid-19.
eCommerce Abundance-Packages Clogging up the USPS Supply Chain
It is reported that many day-to-day items are now being ordered online by consumers thus increasing package deliveries by close to 30%. Combine this with the annual 30% to 40% uptick in package delivery due to the holiday season; it is estimated that more than 3 billion packages will be shipped between Thanksgiving and Christmas this year. For reference, 2.2 billion packages shipped in this period last year. This huge increase has exceeded the supply chain's delivery capacity and created a significant backlog. Delivery companies such as Amazon, UPS and FedEx rely on the US Postal Service for the 'last mile' shipping for its packages to save money or ensure delivery on Sundays or to rural areas. Those packages frequently end up in the same delivery trucks carrying other mail processed through the Postal Service, which contribute to delays.
Critical Entry Sites with delays of unloading and average number of hours delayed. Reported out on 12/21
Akron P&DC – 4 hours
Bethpage, NY – 2 hours
Cleveland, OH – 16 hours
Detroit, MI PDC– 24 hours
Detroit, MI NDC – 17 hours
Greensboro, NDC – 2 hours
Greensboro PDC – 3-4 hours
Harrisburg, PA – 20 hours
Indianapolis, MPA – 2 hours
Lehigh Valley, PA – 12 hours
Memphis NDC, TN – 12 hours
Michigan Metraplex, MI – 24 hours
Nashua, NH – 2-4 hours
Northwest Rochester, NY – 12 hours
Philadelphia NDC – 24+ hours
Philadelphia P&DC 2-4 hours
Providence, RI – 2-4 hours
Springfield, MA NDC- 10 hours
St Louis, MO, NDC – 48 hours
West Valley, AZ – 24 hours
Randy Weiler
Senior Director of Postal Affairs, Logistics and Strategy