As we head into a new year, let's look at where the paper industry is headed and how that might impact the 2023 direct mail strategy.
Paper Market Slowly Moving into Less Choppy Water
While we do not see prices retracting in 2023, it is encouraging we have gone months without an increase and we believe that the slowdown of price increases will continue. Paper is generally becoming more available, but we are nowhere near the availability, options, and timing of pre-pandemic levels. Trends over the past 18+ months would indicate there are signs of a more balanced market taking hold towards the middle of 2023, once printer and marketer- owned paper inventories are worked down. SPC continues to work closely with the mills to help you through these evolving conditions.
When the market eventually becomes more balanced, we predict the mills will still have limits on production output due to scheduled downtime for maintenance or even shutting down a mill line to maintain current price levels. There is always a chance that a smaller mill could give a small price reduction, but with current printer inventory levels being so high, any reduction would not be realized until Q3 at the earliest.
In our Q3 2022 Paper Market Unfolded, we covered international and domestic mill updates, the status of coated and uncoated, and the potential for a balanced market in 2024. Input costs remain high across the board, including pulp, labor, energy, chemicals, and freight. In Q1 2021 energy made up 15% of the cost to produce 1 ton of paper. In Q2 2022, this cost factor doubled for Central European producers and will rise even further as we head into the winter months. The Nordic countries of Europe are not affected with the same increases as they rely on nuclear power. We expect energy as a percentage of paper production cost will continue to remain high.
Moving into 2023, we expect to see continued widespread anomalies in inventory, meaning pockets of excess inventory at the distributors' level. We are all aware that inventory levels at mills are at all-time lows, but this is only part of the story. Printers and marketers continued to purchase all the paper they were allocated. Marketers were buying whatever was available in 2022, not necessarily just what was needed for near-term campaigns. This created a shift in inventories to the printer level. The biggest sign of the supply/demand balance changing is the increased number of printers and marketers who are now turning down at least a portion of their allocation. This excess paper becomes available to the marketplace with mills determining who has the first right of these additional tons, known as x-allocation tons.
Mills are now increasingly faced with the dilemma of allowing inventories to increase at the mill level or slowing/shutting down capacity to limit climbing inventories. The mills' short-term move is likely to take out supply to better match supply with demand, keeping paper rates in check. Q1 will be telling to see if this story continues. Billerud and Sappi have warehouse facilities for paper, but they are only storing paper for future use on existing business, not open inventory.
We already know almost 1.5M tons (3 billion lbs) of North American capacity has been announced for exit by roughly 2025. This reduction has not been replaced anywhere in the industry. That potentially affects more than 500,000 tons (1 billion lbs) of coated paper capacity potentially leaving, forcing us to expect the North American coated paper market to be tight for the foreseeable future with marketers looking to the global market if demand stays the same or grows.
Mill Updates
Since our mill trip visit to Billerud's Quinnesec mill in October, the mill is now producing 65# and 80# Matte Cover that are guaranteed to mic 7 and 9pt for USPS. Gloss finish is also being produced but is not guaranteed to meet the postal caliper of 7pt. This is great news that allows for increased caliper qualifying coated stocks, the most difficult direct mail papers to secure.
Sappi announced its $418 million investment to convert its Somerset, ME, 235,000 tons/yr (470 million lbs) coated freesheet (CFS) paper machine to solid bleached sulfate (SBS) boxboard in early 2025. The purpose is to keep the domestic coated paper supply/demand balance tight for the foreseeable future. A tight market benefits the mills as that keeps prices from eroding and can allow for price increases. Somerset's PM 2 accounts for about 10% of North American CFS paper capacity of 2.2 million tons. This only supports the claim that CFS demand will decline 10% by 2024-25.
Two years ago, Sappi made a similar move when they converted Somerset's PM1 to boxboard SBS production. Somerset mill has a third machine, PM 3, that will still be dedicated to CFS paper, making about 340,000 tons/yr. Sappi also makes CFS at the Cloquet, MN, mill.
Sappi's recent actions are meant to fall in line with their long-term Thrive25 strategy, to reduce exposure to declining graphic paper markets and grow their portfolio in packaging and specialty paper, pulp, and biomaterials. International mills also fall into their game plan. In Europe, Sappi signed an agreement to divest itself of its Maastricht mill in the Netherlands, its Stockstadt mill in Germany, and its Kirkniemi mill in Finland.
Sappi's third-quarter graphic paper sales declined by 4% year-on-year due to lower inventory levels and a shift towards packaging and specialty paper grades. Despite this conversion, Sappi is the largest CFS producer in North America with about 54% of the market capacity, followed by Billerud with 33%.
Following Sappi's lead in converting graphic paper capacity to boxboard, Billerudplans to convert its PM 3 and PM4 at its Escanaba, MI mill from coated print paper to boxboard between 2025 – 2029, with the potential for a final decision on the investments in 2023.
The announcement of machine conversions of both Sappi Somerset and Billerud Escanaba will create longer-term supply concerns.Significant coated paper capacity already left the market in the last two years and this trend will continue and will result in the coated printing and writing paper market staying reliant on imports.
Sappi and Billerud are the main CFS paper producers left in North America. ND Paper and Willamette Falls Paper are other domestic producers of CFS paper.
UPM contributes to the CFS market by supplying paper from its mills in Europe. Lecta, Burgo, and Asian producers also supply paper to the North American market.
Willamette Falls Paper expanded CFS paper capacity on its third machine at the West Linn, OR mill. The machine can produce additional tons of 60-lb and 70-lb text and a higher yield of 75-lb Sonoma coated grade which can compete advantageously against an 80# text weight. West Linn mill has a paper production capacity of 158,867 short tons/yr on three paper machines.
Let's talk statistics…
North American Coated Freesheet capacity has reduced from 80 mill lines in 1999 to 12 mill lines in 2022, a reduction of 68 mill lines.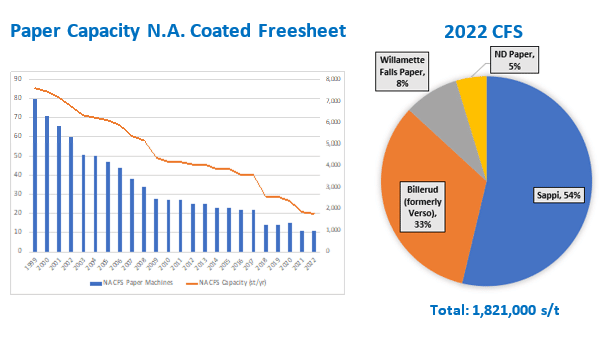 According to the American Forest & Paper Association (AF&PA), CFS imports increased 31% through October 2022, compared with January – October 2021. Demand rose 11% while domestic shipments increased by 2% and capacity declined by 1.5%. The US mills operated at 81% of their capacity in this period. Coated freesheet prices are expected to hold steady in Q1 2023.
North American Uncoated Freesheet capacity has reduced from 261 mill lines in 1999 to 68 mill lines in 2022, a reduction of 193 mill lines.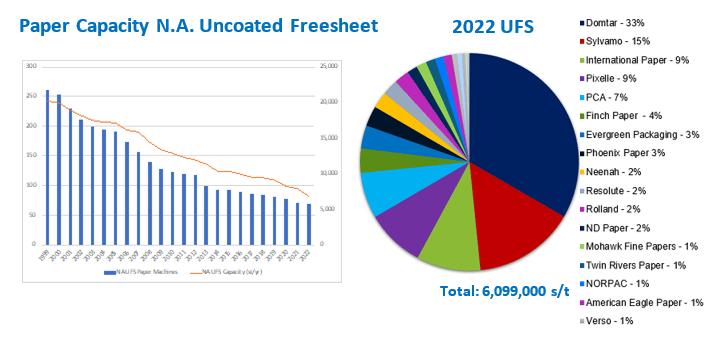 We expect uncoated freesheet prices to hold mostly steady through the first half of 2023. We expect operating rates to continue trending down in 2023 as well. Imports are expected to account for 14% of North American uncoated freesheet demand in 2023. We expect uncoated free sheet text to come off allocations in Q1 of 2023. There are fifteen mills that produce uncoated which will allow them to be more aggressive in trying to fill their paper machines than in the coated freesheet market where only two mills control around 90% of the supply.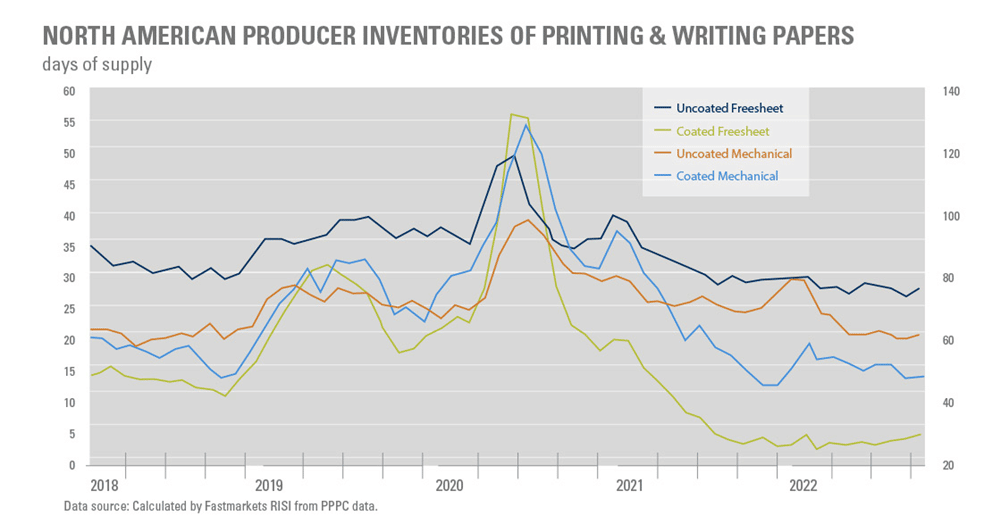 ND Paper Updates
ND Paper is also making a few changes to increase its product flexibility and shift further into packaging grades. In early 2023, ND Paper will have converted another machine at the Biron mill to containerboard. Since this will re-tighten the coated mechanical market, we expect to see a modest price increase for coated mechanical early this year. The other changes include:
Converting their R15 paper machine from P&W papers into lightweight high-strength kraft liner board products.
Expansion of R12 Paper machine capabilities to include unbleached recycled bags and converting papers, in addition to its current offerings of bleached and unbleached papers
The Surge of Imports
Imports account for more than 40% of North American coated paper in the third quarter due to capacity closures and post-pandemic demand pickup.
For the last two years, import availability was cramped by a variety of factors, but there is a change in the wind. The strike at UPM's Finland paper mill was resolved. Tight paper markets have made many paper buyers adapt to offshore paper suppliers. US trucking availability has drastically improved compared to early 2022, with a 3 load-to-truck ratio, the lowest level since the pandemic. Container costs are leveling out. The strength of the US dollar and price levels are driving a good amount of interest from offshore producers. All the ingredients have been in place for imports to take off for several quarters, but imports had faced the challenge of expensive ocean freight and the time needed to ship overseas.
CFS imports are trending at the highest levels in the last five years. 75% of these imports are coming from traditional markets including Germany and Finland, but the growth is coming from non-traditional markets like India and China, which make up 25% of the imports. The tight market has triggered a global sourcing situation which resulted in high imports largely from countries that aren't traditional importers. It's possible for the return of import competition to be a major factor for the North American P&W market over the next year
A downside is new temporary brands have unknown reliability. We are seeing temporary brands to help with our demand problem, but these new brands might not hit North America's quality expectations. Additionally, pricing for European and Asian paper is still generally higher than domestic paper due to transportation and energy costs.
Closing Thoughts
SPC will continue to monitor market signals to help you plan your future print projects. Even though the paper market does not feel as tight as it did earlier in 2022, supply will remain tenuous. Our advice is to continue being flexible and allowing proper time to plan paper purchases and delivery. Use brands you trust and supply chains that are trusted.
Contact Ryan LeFebvre at ryanl@specialtyprintcomm.com for assistance in making your DM programs a success.