Behind the Numbers
A cursory look at market trends might look less-than-stellar, but a deeper dig into the numbers shows that print is growing in important, strategic arenas—all of which are poised for growth.

While overall print demand is shrinking, specific and crucial sectors are growing—digital and packaging print. Digital inkjet truly has the potential to transform the print industry, reimagining how print is utilized, created, and deployed. With the rise of subscription services and direct-to-consumer e-commerce, packaging is also growing significantly.
Deeper market analysis shows great promise and growth in important sectors—the very places where data paired with print makes it more powerful. Brands are working hard to  deal directly with their customers using data and intelligence—and print is an important vehicle to take them there. We believe print will continue to grow as a strategic tool, even as less thoughtful uses of print marketing fall by the wayside.
Q2 Paper Forecast
Overall paper demand is declining….
Our paper distributors are projecting a 2-3% annual decline in US UFS paper demand in 2019-2020.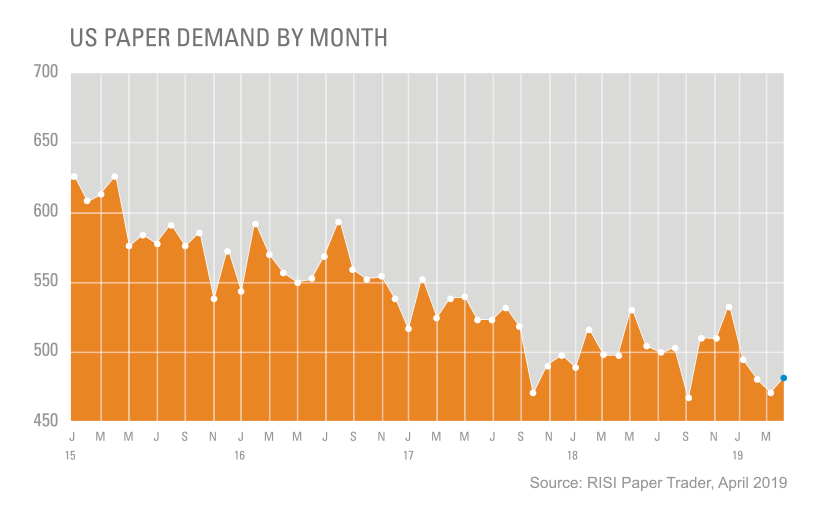 …while digital print and packaging keep growing.
Trends suggest that the global value of digital print and packaging shipments and services will continue to grow in the commercial applications, packaging, and decorative uses.
Key Takeaways for SPC Clients
Uncoated freesheet prices decline, coated prices remain the same (for now).
Reduced demand and import pressures are pushing uncoated freesheet prices lower (between $1.00cwt to $2.00cwt on larger orders for SPC customers). Our paper reps are predicting a generally stable market, and potentially more price reductions for both coated and uncoated stocks in 2020 and 2021.
High inventory levels are good for customers.
Decreasing demand means that inventory levels haven't been this high in 2-3 years. Clients should know that because of this, SPC can potentially negotiate better prices on larger orders.
SPC has downturn protection.
Some pundits have predicted an economic downturn on the horizon. But SPC's strong buying power and financial position allow us to defend against some of these effects for our customers, including quarterly price protection.
The Final Word

News: Closures and Consolidation

New Paper Company to Restart West Linn Paper Mill
The West Coast's only coated freesheet paper mill will re-open under the new Willamette Falls Paper Company. The mill will restart in Q3, with a plan to make both coated and uncoated freesheet paper. The new owners also seek to eventually use non-traditional fiber sources such as pulp from wheat straw, agricultural waste and hemp.
Verso's Luke Mill in Maryland Has Closed
The closing of this mill has had a significant impact on the paper market, reducing Verso's coated freesheet production by 450,000 tons and the overall North American freesheet capacity by 11%. However, before the mill closed, it built up a 4-month supply of papers that will be good through 2019 Q4.
Flambeau River Papers to Be Sold
The Park Falls, WI, paper company has filed for Chapter 128, a voluntary restructuring and debt consolidation plan. The mill is still seeking a buyer.
G-P Layoffs and Equipment Closure at Crossett Mill
This Arkansas mill is closing some of its facilities even as the mill remains open. It will cease production of its uncoated, copy paper, rolls and bleached paper board. Current round will also lay off 655+ workers.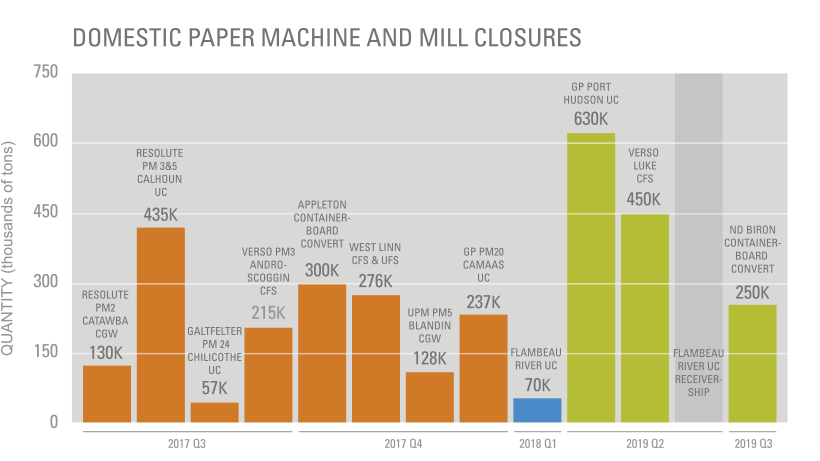 Closing Thoughts
As an industry, we are moving to a place where print is more and more strategic—not just as a standalone marketing tool, but in concert with other technologies and tactics. Paper is an essential element in the singular, tactile experience of printed materials. Printed paper marketing has the power to connect to audiences and remains an important tool for marketers.
SPC will continue monitoring and analyzing the paper market to give our clients the greatest advantages. Whether it's the assurance of our quarterly price protection or the benefits afforded by our sizable purchasing power, we are consistently seeking the best when it comes to their marketing.