Periodic and moderate changes in the prices of raw materials are expected in the normal course of doing business. Year-long, global pandemics having long-lasting effects on the production and procurement of those materials are not. The pandemic has caused dramatic shifts in operating patterns within the paper industry, which have resulted in fluctuations in pulp and paper supply and demand, and recurring price increases.
Mills, such as Verso's Wisconsin Rapids Mill, have been idled or closed and pulp production for paper has shifted to hygiene products. A significant decrease in the purchase of paper from Asian producers has laid the burden for demand squarely on domestic producers such as Sappi, Verso, Domtar, International Paper, and ND Paper.
In 2020, paper mill inventories were inflated as unsold paper was warehoused. As of early 2021, paper stockpiles have been depleted to historically low inventory levels as demand begins to rebound. To meet current demand, coated paper mill operating rates are over capacity with the traditionally stronger spring direct mail season looming. With demand greater than capacity, the mills have the upper hand in pricing leverage. Supply and demand issues are compounded by a rapid and significant increase in wood pulp prices, as well as in mill costs, national load-to-truck ratios, and freight costs. Sappi recently announced "a [3% – 5%] transactional price increase on new and unconfirmed orders that book with confirmed delivery dates on or after Monday, March 1, 2021" on Flo and EuroArt papers, all basis weights and finishes.
Coated freesheet producers have announced a $1.50/CWT increase, less than the previously dramatic increases of $2.00 – $3.00/CWT, to mitigate the sticker shock. On average, CWT prices will see increases of 3% to 10% depending on the brand/grade/weight. This includes, among others, coated freesheet and offset. Commodity grades will increase at a smaller percentage while text and cover grades will increase at a higher percentage.
Price Increase Drivers:
Wood pulp prices increased in January 2021 with further increases announced for March.
The costs for transportation and chemicals increased in 2020 and will continue to increase, which will result in additional price increases in 2021.
Domestic transportation and logistics costs increased nationally 3.7% in the fourth quarter of 2020 with a predicted 1.9% average increase across each of four quarters in 2021 Source: logisticsmanagement.com.
International cargos were impacted by halted shipments and delays in getting goods to their destinations.
Coated freesheet (CFS) mills are operating at 100% of capacity and coated paper demand is predicted to rise 6% in 2021. Source: RISI February 2021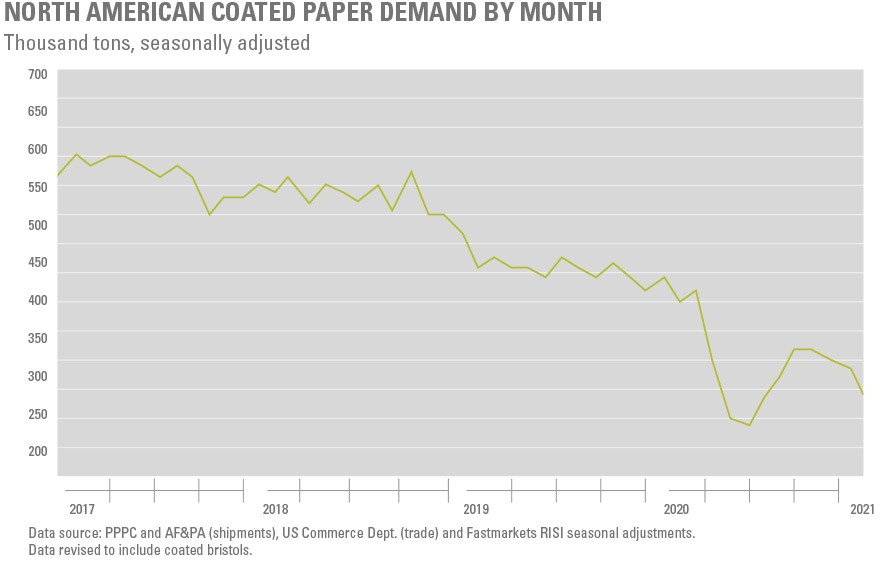 Uncoated freesheet (UFS) operating rates are expected to hit 94% in the second quarter, above their typical 92% supportive level for pricing. Source: RISI February 2021
Uncoated freesheet (UFS), strengthened in late 2020 by election activity and limited return to work and school, is subject to price increases dictated by rising pulp prices and mill costs as well other measures designed to bolster the UFS market; demand is expected to continue to improve.
While mill inventories are at an all-time low, inventories at the secondary merchants are intermittent to good. This could present opportunities for SPC clients with ad hoc projects. Purchasing through a secondary merchant can result in cost savings, especially at a time like now, when the mills are raising prices. However, there can be challenges so this may not be the right fit for every project or every client. For example, mill guarantees and support may not apply if there is an issue with the paper. This is not the case with mill direct paper. Additionally, specifics of papers such as sheet size, roll size, basis weight, and finishes can be limited. But, given the current climate, the secondary market is worth a closer look. Inquire with your SPC rep to evaluate if this might be a workable option for your ad hoc project.
Count on SPC for solutions in this very dynamic paper market. We are working diligently with our long-standing partners in both our mill and merchant networks to find ways to keep your direct mail campaigns on budget.
Talk with your SPC sales representative about ways we can help you maximize your return on marketing investment and drive results.