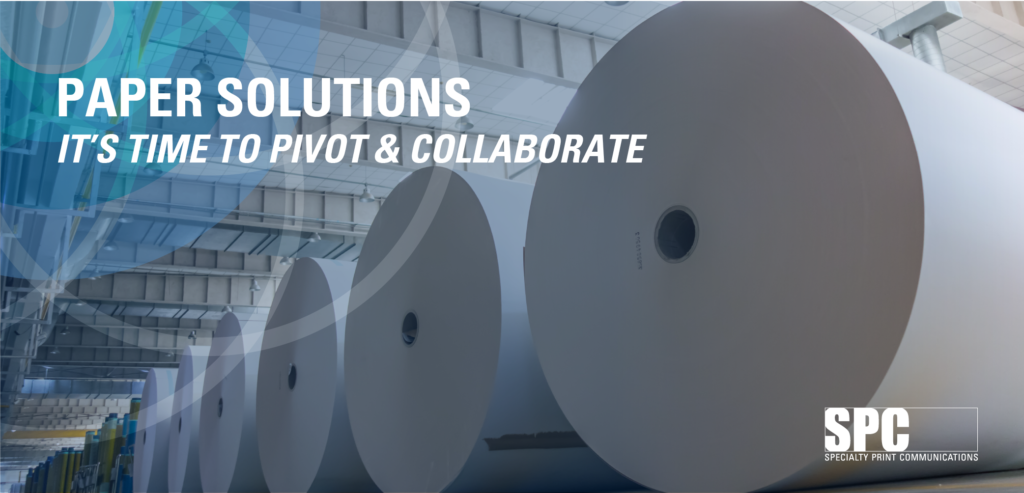 Paper – the vanishing commodity. The ever-shrinking production capacity of paper mills and ravaged inventory coupled with reduced allocations has wreaked havoc on the print industry. The lack of availability of paper and the subsequent bargaining to procure it has made buyers masters of machinations. Sales representatives have become innovative conjurors of creative solutions to customers' paper woes.
The days of going on press tonight are gone (for now). The harsh truth is, you may not be able to get the paper stock you want when you want it. SPC, however, is working their magic providing alternatives to customers who have all but lost hope.
Considering alternative papers isn't sorcery, but it can be an immediate solution to procuring enough paper to complete a direct mail job.
Changing the weight of your paper can reduce overall costs.
Flexibility in scheduling becomes a factor if an alternative paper is not a consideration.
Timing is everything. Lead times to procure paper have increased significantly, particularly for rolls of paper. SPC encourages customers to mitigate this scenario by committing to a job sooner to allow for more time to secure paper.
We're finding ways to help our customers get what they need. Here are a few examples:
SPC was able to adapt. A non-profit customer quoted a job for 7MM booklets. SPC couldn't meet the price of competitors on the paper, however, when the job was requoted at 11MM pieces, SPC was the only supplier that could procure the paper as well as produce the job in enough time to meet the delivery date.
SPC was pragmatic. A customer with a monthly letter package, traditionally run on an 80# Matte text, struggled to have paper in time because the coated web market orders are 7-9 weeks for delivery. SPC recommended a 70# opaque stock with a 3-4-week window. Additionally, dropping the basis weight from 80# Matte to 70# Opaque kept the pricing comparable.
SPC was collaborative. The paper delivery for an awarded non-profit job was 6 to 8 weeks out but suggestions by procurement and estimating changing the roll sizes on the letter and the reply to a more readily available size solved the paper availability problem with minimal change in cost.
SPC thought outside the box. A client's ongoing non-profit program, which includes a greeting card, typically printed on an 8pt – 10pt C1S sheet, requires recipients to write on the inside of the card without smearing their handwriting. No C1S sheets were available in either web or sheetfed before the next scheduled mail date in August. SPC's alternative approach was the proposal of a 9pt matte cover with a gloss varnish on the outside to create the same appearance as the coated side of a C1S. The inside would not have a coating and would be produced as a matte sheet, still enabling the recipient to write on the paper without smearing their handwriting.
SPC is creative. With the assistance of SPCFuel, SPC's new marketing arm, alterations to a format or size can be suggested to accommodate readily-available paper stock. With a little creativity, this sleight of hand can also save money.
SPC is able to leverage its relationships with mills and other paper providers easing some of the pain in procuring paper for customers. Ultimately, the relationships between SPC, its partners, and its customers can converge to breathe life into projects vulnerable to the gambits of the paper suppliers.
Contact me to consult how SPC can provide solutions to your upcoming direct mail campaign.
Ryan LeFebvre
RyanL@specialtyprintcomm.com