As the first two interns from the University of Wisconsin-Stout's Graphic Communications Program, we were so excited to join the SPC team this summer! Heading into our senior year of college in the fall, we were eager to gain more experience in the print industry. Here's the breakdown of our awesome summer with SPC:
Internship Overview
The internship program at Specialty Print Communications was a very unique experience. Instead of being assigned one job for the entire summer, we were able to rotate through almost all of the departments between SPC's three locations. We got to be hands-on on the production floor, learned the process of estimating and accounting, helped schedule real jobs in their system, became educated on postal regulations and the lettershop, and even got to help work on jobs from start to finish in account management. To make this experience even better, SPC provided us with a fully furnished apartment just 20 minutes away from the office, so housing was no concern to us. This internship has opened our eyes to the dynamic world of direct mail and the endless opportunities that exist in print!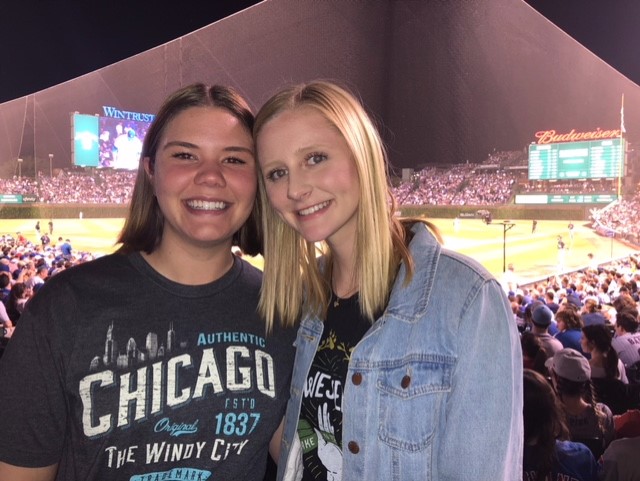 Getting to Know Chicago and the SPC Team
SPC has made it a tradition to take its interns on a handful of fun social events to get acquainted with the many attractions in the Chicago area. With each event, two employees entertained us for the afternoon or evening. With these experiences, we were able to get to know the people we're working with so much better. It can be hard to get to know people during the hustle and bustle of the workday, so it was great to be able to connect with these people outside the walls of SPC!
Trip to Los Angeles: Bridget
SPC took the time this summer to consult with us individually about what areas of the business we were interested in. Through those conversations, SPC made it a priority to create opportunities for us pertaining to those interests. With an enthusiasm for a career in sales, I had the opportunity to travel to Los Angeles for an onboarding meeting with a new client. Every client is different, and being able to understand the workflow of a large agency was extremely beneficial. Meeting with the agency's team to hear their perspective, SPC was able to work through what this new relationship will look like and how to improve upon their past experiences. After the trip, the learning didn't stop! I helped build workflow diagrams to map the process of how jobs will be executed, and to analyze the best way of doing things. This entire experience was a huge highlight for me!
Mail Design Class: Mia
With my interest in marketing and account management, I had the opportunity to attend a class about postal regulations and mail piece design standards held at SPC through the United States Postal Service. The amount of information I was able to learn was astounding and so beneficial for my future. The class was eight hours long. During that time, we went through 10 modules, learning everything that is essential for direct mail. I never knew how many components go into a direct mail piece, let alone the regulations that must be followed in order for a job to meet the standards of the postal service. SPC really cares about its employees and wants them to continue growing in this industry, which is why it is so awesome that SPC paid for this class to happen. I'm so thankful I had this opportunity to get educated on all things postal—and now I am certified!
Our Takeaway
We want to thank SPC and its amazing employees. We're truly honored to have been a part of its internship program, and grateful that we had the time to get to know so many wonderful people. This summer has been unlike anything either of us have ever experienced, and it's been an incredible kickoff to the start of our professional journey. We can't wait to see what lies ahead for us!
Thank you!
Bridget Johnson & Mia Bartel
Summer 2019 Interns