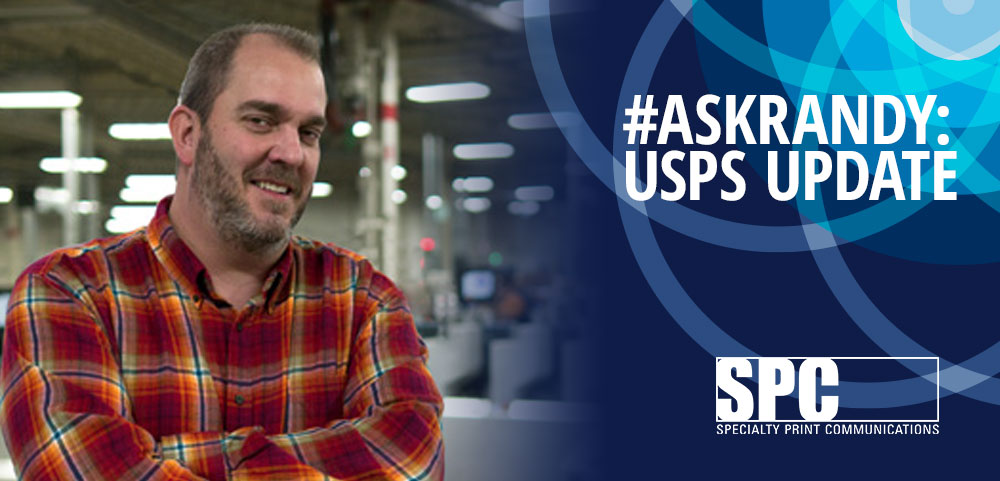 What can you tell us about the price increases taking effect in July? How are the size and timing of rate increases determined?
This is not shocking news as industry experts predicted a postage rate increase in July. The new prices will be effective July 9, 2023. The adjustment includes a three-cent increase in the price of a First Class Mail Forever stamp from 63 cents to 66 cents. The USPS has over the last 23 months, instituted postage rate increases that exceed 22.8%. The chart below shows the July adjustments by rate category.
Here is a quick review of past percentage increases in postage rates:

July's proposed increases will raise First-Class Mail prices by nearly 5.4%. The below charts detail the adjustments in First Class and Marketing Mail.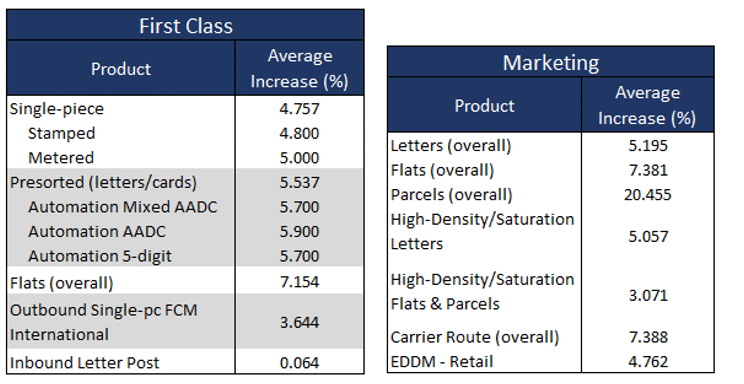 The 2006 Postal Reform law states that the size of a postage rate increase is capped at a percentage linked to the Consumer Price Index. Inflationary increases in the CPI (Consumer Price Index) in the last six months justify the USPS requesting the postage adjustments for July.
As always, SPC is here to help you strategically add USPS Promotions to your campaigns to offset rate increases and increase engagement. Reach out to learn more about our USPS Calculator. This tool shows how the USPS discount can counterbalance the production cost of implementing the technology.
Are there any new discounts that can help offset these new rate increases?
The Postal Service has offered a discount for Marketing Mail letter-shaped pieces on SCF pallets (Pallets where all pieces are destined to zip codes served by a single USPS Sectional Center Facility). This discount will apply to Automation and Nonautomation (AADC, 3-Digit and 5-Digit Presort) Letters, Carrier Route Letters, High-Density Letters, High-Density Plus Letters, and Saturation Letters on SCF Pallets regardless of the entry (None, DNDC, and DSCF). The Postal Service is trying to have a more efficient SCF pallet flow throughout the network. By incenting the creation of more SCF pallets, processing costs are projected to be lowered by lessening bundle handlings. An additional positive outcome of this should be an improvement in mail delivery times.
What is different about this year's National Postal Forum?
Of course, the biggest difference is the city. This year the National Postal Forum will be hosted in Charlotte, North Carolina from May 21 –24. The theme of NPF 2023 is Delivering for America, and as usual, will feature an opening session from USPS Postmaster General Louis DeJoy. The USPS typically uses the National Postal Forum to unveil updates, enhancements, and other new information.
The National Postal Forum is a great opportunity to build professional relationships within the mailing and shipping industry as there are over 4,000 industry attendees and 100 plus industry influencers. There are educational sessions offering attendees USPS insights, viewpoints from industry leaders, and discussions of new technology applications. SPC will be hosting a breakout session Sunday, May 21st at 4:00 pm, showcasing the latest innovations and techniques that drive higher response for direct mail.
What is your favorite Springtime activity?
My favorite springtime activity is really just getting outdoors. After another long Midwest winter, it is great to finally get outside and enjoy the warmer weather.
Randy Weiler
Senior Director of Postal Affairs, Logistics & Strategy