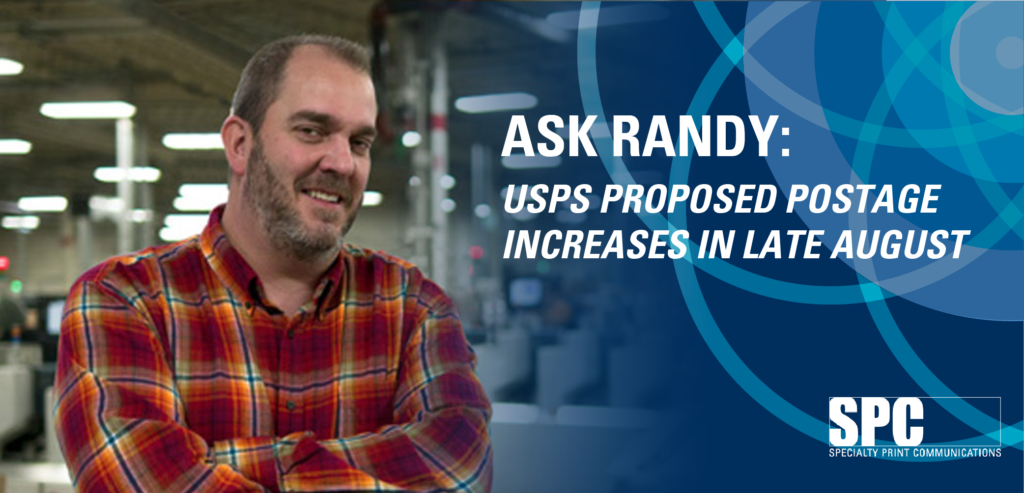 The USPS has submitted a request to increase postage rates effective August 29, 2021. Marketing mail shows a 6.6% increase with a 6.8% proposed increase for First Class mail. The notice was filed on May 28 with the Postal Regulatory Commission (PCR) as part of the 10-year plan to achieve financial sustainability and service excellence. This price increase was "an integral component of that plan".
According to the USPS, instead of following the former January implementation schedule for annual price increases, the Governors have decided to shift to an August schedule for 2021. It is yet to be determined whether this new timeline will remain for future years.
FIRST CLASS MAIL
There will be an increase in Full Rate Stamp prices from 55 cents to 58 cents, along with a Meter price increase from 51 cents to 53 cents. Due to the combination of these increases, the Stamp and Meter differential is widening from four cents to five—hopefully aiding small businesses in their recovery from the pandemic.
The significant increase in the 5-Digit Letters discount, along with promotional discounts should soften the impact of this price increase. A new 1-cent discount for High Density Flats on 5-Digit (direct) pallets is being created by the Postal Service.
MARKETING MAIL
58% of USPS Marketing Mail revenue is from Letters, which will be receiving a slightly below average increase. However, both High Density Flats and High Density Letters are receiving above average increases. A 16.7% increase will apply to Detached Marketing Labels as they climb from 6 to 7 cents and Detached Address Labels will increase 18.2%, or from 5.5 cents to 6.5 cents.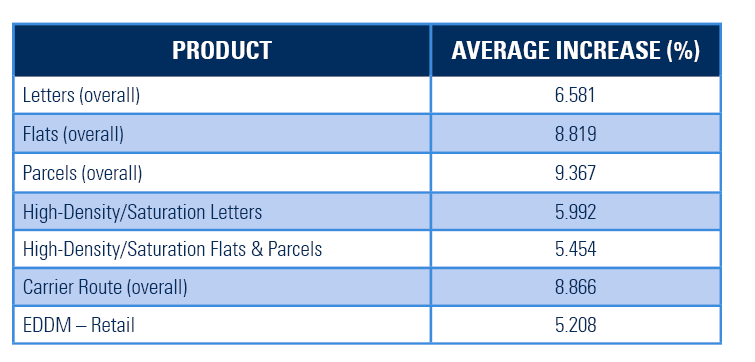 PACKAGE SERVICES
It's been noted that the Postal Service is using nearly all available cap space to increase prices. Media Mail/Library Mail rates will increase by 10.865%—staggeringly higher than the 8.804% class average.
Currently in review by The Commission is the Postal Service's request to transfer Bound Printed Matter Parcels to the competitive list. In FY 2021, the cost coverage of BPM Parcels was 94%.

2022 USPS PROMOTIONS
PERSONALIZED COLOR TRANSPROMO: An upfront 3% postage discount will be applied to mailers who use dynamic and variable color print for personalized, transpromotional marketing messages on their bills and statements. Offering from July 1 through December 31, 2022.
EMERGING & ADVANCED TECHNOLOGY: A 2-3% postage discount depending on the technology integrated within the mail piece. Enhanced Augmented Reality and Basic Integration with Voice Assistant qualify for 2% discount. Video in Print, NFC, Virtual Reality/Mixed Reality, and Advanced Integration with Voice Assistant qualify for a 3% discount. Offering from March 1 through August 31, 2022.
INFORMED DELIVERY: An upfront 4% postage discount for mailings that incorporate best practices and techniques in their Informed Delivery campaigns. Offering from August 1 through December 31, 2022.
TACTILE, SENSORY AND INTERACTIVE ENGAGEMENT: An upfront 4% postage discount encourages mailers to drive customer engagement with the mail using advanced print innovations in paper and stock, substrates, inks, interactive elements, and finishing techniques. Offering from February 1 to July 31, 2022.
MOBILE SHOPPING: An upfront 2% postage discount encourages mailers to integrate their direct mail pieces with technologies that facilitate a convenient online shopping experience for consumers during the holiday season, such as QR codes, Snap Tags, Watermarks, etc. Offering from September 1 to December 31, 2022.
Randy Weiler
Senior Director of Postal Affairs, Logistics & Strategy