Will you be attending the National Postal Forum in May and do you anticipate any breaking news?
Yes, SPC has a booth at the event and I will be attending. The theme of the event is "Facing the Future Together." I expect to see fresh new ideas for the mailing and shipping industry.
For example, the USPS might be dipping their foot into digital advertising pool with a pilot program that would allow the USPS to send digital ads on behalf of themselves, other government agencies, and maybe private sector advertisers to the 45 million people participating in Informed Delivery.
More to come on this and other items. Be sure to check out SPC's booth, 311!
Do you have any insight on the next price increases in July?
The USPS has submitted a request to increase postage rates effective July 10th, 2022. Marketing mail as well as First Class mail on average will increase by 6.5%. The notice was filed on April 6th with the Postal Regulatory Commission (PRC). If approved by the PRC, which is almost a certainty, this increase coupled with that from August 29, 2021, will have increased postage by over 13% in the last calendar year.
According to the USPS, they will be moving forward with a twice per year rate adjustment schedule occurring in January and July of each year.
FIRST CLASS MAIL: There will be an increase in Full Rate Stamp prices from 58 cents to 60 cents, along with a Meter price increase from 53 cents to 57 cents.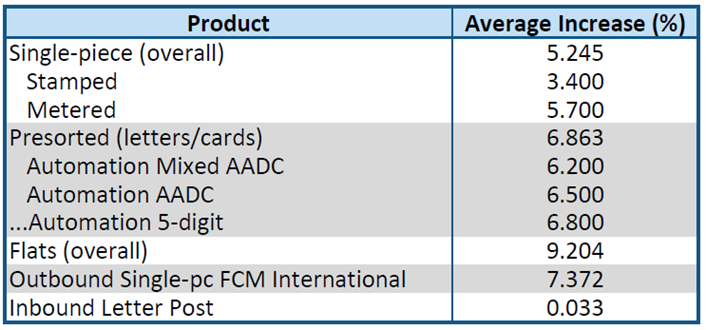 A slightly above-average price increase is expected for Automation Letters in the Presort Letters and Cards product category. The USPS reported that cost coverage for First Class flats fell below 100% resulting in greater then a 9% increase for this mail category.
MARKETING MAIL: USPS Marketing Mail will see a slightly below average increase. However, both High Density/Saturation Letters and Carrier Route overall will see above average increases. Additionally, Flats and Parcels will receive postage increases greater than the overall class average.

SPC encourages all of our customers to participate in USPS promotions to help mitigate the impact of rising postage costs. 
How is the USPS fairing with the current tight labor market?
The current labor storage and logistics delays are affecting the USPS as well as many other industries. However, the USPS is working hard to reduce delays and find drivers. The 2022 USPS year-round strategy includes increasing facility space to help meet the needs of peak season. USPS has increased the numbers of positions by 33,000 since January 2021. Filling these and any forthcoming positions is coming at a higher cost as the USPS has been forced to increase wages to attract and retain employees.
Any update on the USPS plan to update delivery vehicles?
The USPS contracted with Oshkosh Corporation last year to launch a multi-billion-dollar modernization of its delivery vehicles. This award was for a 10% electric/90 % conventionally powered fleet. The conventionally powered vehicles will be brought into service first. Electronic vehicles will be implemented later.
This award does not align with the President's vision of transforming the government's fleet into clean energy vehicles and has been criticized by the Environmental Protection Agency. It is doubtful that the USPS is anti-electric vehicle, just cash poor. Conventionally powered vehicles come with a much smaller price tag; however, studies have shown the potential USPS savings of $4.3 billion over the life of the fleet should the USPS switch to all-electric. It is speculated that Postmaster DeJoy is trying to leverage widespread support for an electric fleet in an effort to attain additional Congressional funding.
The new fleet was a large part of the USPS 10 year plan. We will all have to wait and see how it unfolds. As always, as more information becomes available regarding any USPS change, SPC will update our customers and post the details.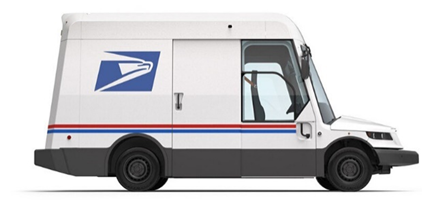 Who is your favorite actor?
Russell Crowe. Love Gladiator, A Beautiful Mind and Cinderella Man
Randy Weiler
Senior Director of Postal Affairs, Logistics & Strategy